Accepted at over 300 Locations
ZITRO Prepaid Card
ZITRO is launching its new Prepaid Card service to the public.  Don't have a bank account, tired of carrying cash, never knowing where your money went then the ZITRO Prepaid Card is for you. ZITRO Prepaid Card is just like a debit card, almost like a credit card.
No Late Fees!!
No Interest!!
No more worrying about losing your cash!!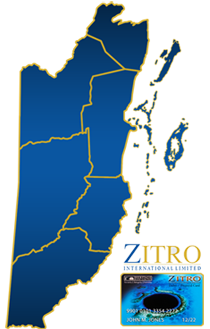 Tired of the long lines at the bank then have your Paycheck loaded directly onto your ZITRO Prepaid Card and access your cash at any Heritage ATM or at your local Credit Union ATM.  You can get your groceries, buy your hardware and other supplies at select stores that use Heritage's Bank Point of sale equipment.
Receiver Direct 2 Card
No more waiting in lines. No more hassle.  ZITRO now offers Western Union customers the chance to have their funds sent directly to their ZITRO PREPAID CARD.  The new product is called Receiver Direct 2 Card (RD2C) and customers simply have to fill out a form authorizing ZITRO to deposit their Western Union Money Transfer directly to their Prepaid Card.  Customers will simply need to call ZITRO's main office at 223-1678 or send us an e-mail at RD2C@zitro.bz informing us of the MTCN, Sender, Amount, Origin and Purpose for receiving the funds.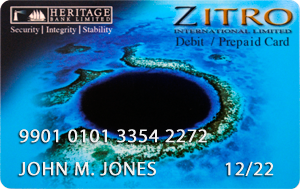 Visit our office today to fill out your form and start saving time and money.  Customers who sign up today get a chance to enter our Monthyl Loyalty Promotion Raffle and the opportunity to win prizes!
ZITRO Prepaid Card is an independent service provided by ZITRO International Limited.  Check Card for fees as additional fees do apply.